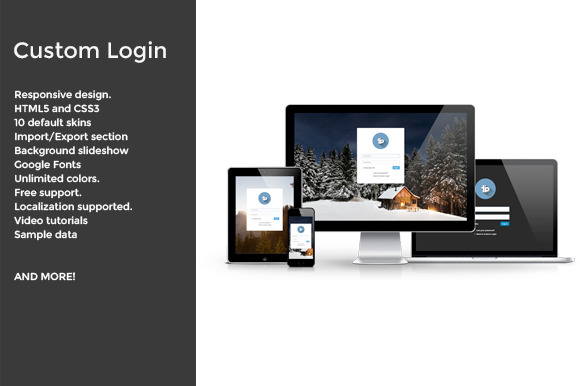 Live Preview
WIP Custom Login Pro allows you to customize the login and register section of WordPress.
Thanks to this plugin, you can replace the WordPress logo, set a background image or background slideshow and much more.
WIP Custom Login Pro works with each WordPress theme and plugin and is 100% compatible with GPL license
Option panel
http://www.youtube.com/watch?v=w5jFYlFjlz0
Default Skins
You can set a default plugin skin and replace the saved options.
Background slideshow
You can create a beautiful body background slideshow and make your admin page unique.
Unlimited colors
You can change the colors of each section, like the login button.
Backup section
You can create a backup of plugin settings ( included the slideshow) or restore the default settings
Sample data
You can import the preview settings, from the backup section.
Support
Thanks for purchasing my plugin, i really appreciate it!. If you need support, you can send me a message on [email protected] for activate your account on https://www.themeinprogress.com and send your request.